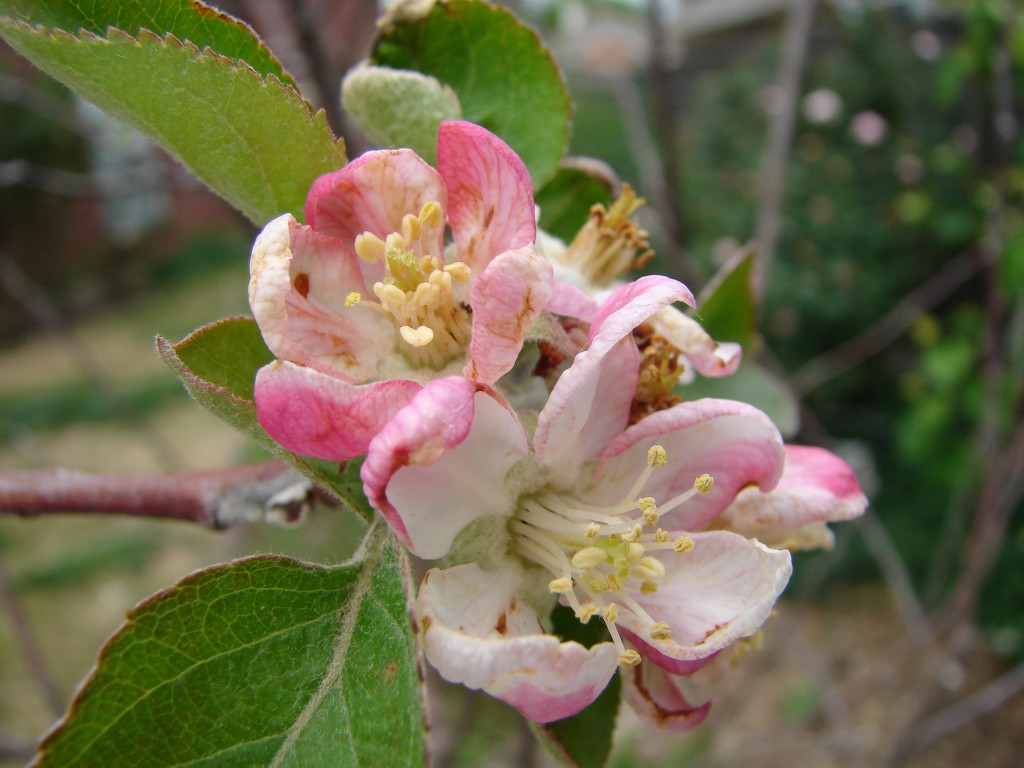 My son love apples.  So in 2005 we got him an apple tree for his birthday. I know that it may seem like an odd gift to give an eleven year old boy, but it was actually very fun.
It can take up to five years for an apple tree to start bearing and we now have our first four apples on our tree.  With all the rain we have been having lately, it looks like one of the apples may be splitting.  Hopefully we can hold on to the others.
Now, if you live in the south, its not as easy as just sticking a tree in the ground and growing apples.  When you think of apples, the first thing that comes to mind is Washington state or up state New York.  That's a long way from Texas.  Here is the problem – most apples trees put fruit on through the summer to be harvested in early fall.  Well, in Texas the temperatures can still be in the hundreds all the way deep into September.  Unless an apple produces extremely early or late, it will cook on the tree and you will produce a lot of mushy and not necessarily flavorful apples.
So, when we went looking for an apple tree, we knew we had to be careful.  We also wanted an heirloom type apple.  It was a long search, but we finally decided on an Blacktwig from Century Farm Orchards.
Here is the description of the Blacktwig from their catalog:
Blacktwig (Mammoth Blacktwig): The muddy history of this apple places its origin in Virginia, Tennessee, or Arkansas during the 1800's. This apple tends to be tart and of unparalleled fresh eating quality. It can also be used for cider or cooking, and is known to keep well. The tree is resistant to several apple diseases including fireblight and cedar apple rust. The tree tends to be productive, even on poor quality soils. The apple is above medium to large,  skin green with a deep red and several red stripes. Its flesh is white, almost yellow, firm, juicy, and mildly subacid. Ripens late September through October. (My favorite all-purpose apple)
Even though this tree is disease resistant, it has suffered some damage from the cats using it as a scratching post.  I need to wrap the trunk with chicken wire to get the cats to leave it alone and use the sick tree treatment on it, but I think we can get past the damage.
There is a small family orchard that has been for sale in John's hometown of Hannibal, MO.  We always pass by it with longing in our hearts every time we go back to visit.  We dont' have room here for an orchard and we may or may not be able to get much from  this tree before we end up having to leave it, but hopefully Travis will be able to have a few apples from his tree before he leaves for college in four years!
-- Weather When Posted --
Temperature: 82°F;
Humidity: 69%;
Heat Index: 86°F;
Wind Chill: 82°F;
Pressure: 30.05 in.;